The Merrimon Wynne Wedding Summer Showcase in Raleigh, NC

The Summer Merrimon Wynne Showcase
What a gorgeous day to be a part of!
The Merrimon Wynne is one of the most popular wedding venues in Raleigh, NC.  Each season they do a showcase to invite people to see what a wedding might look like at their venue. This event is open to couples who are getting married at the Merrimon Wynne, couples getting married elsewhere, and couples who are just browsing ideas come to enjoy the day. Both the Main House and Carriage House have a designated planner + designer to beautify the spaces and show couples what might be possible for their wedding day. It's a day of meeting new people and seeing gorgeous ideas.
Before I get started, I want to be sure to credit all of the amazing vendors involved. These are the people that cooked and served the delicious foods and cocktails, played the beautiful music, thought up the artful designs, and used their talents to create gorgeous visuals.
Planning and Design: Viva L'Event
Rentals: Curated Events
Signage, Stands, and Archway: Revel
Venue: Merrimon Wynne
Catering: AC Catering
Italian Lemonade Cart / Treat Cart: Sweetwater Ices
Musicians: Deans Duets
Florist: Once Gathered
Specialty Rentals: Greenhouse Picker Sisters
Hair and Makeup: Wink
Bridal Shop: The Coastal Knot
Wedding Dress: Martina Liana
Model: Chastity
Below is an overview of the gorgeous spaces and ideas for the day. If you'd like to see the full styled bridal session at the Merrimon Wynne Wedding showcase, click HERE.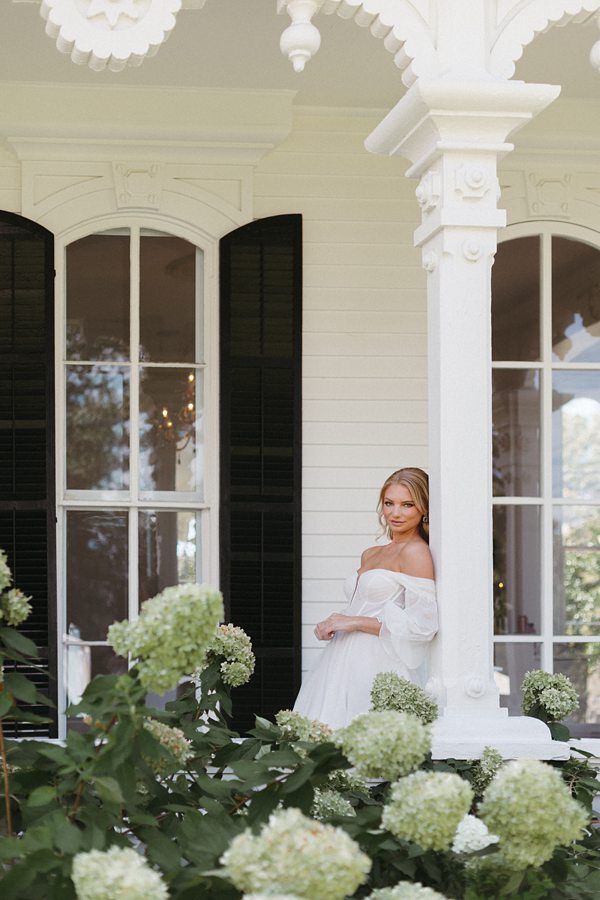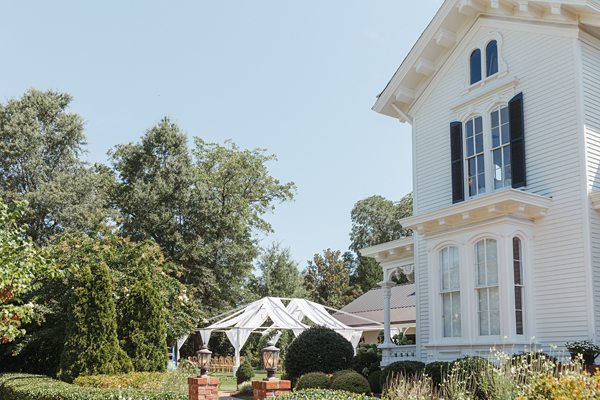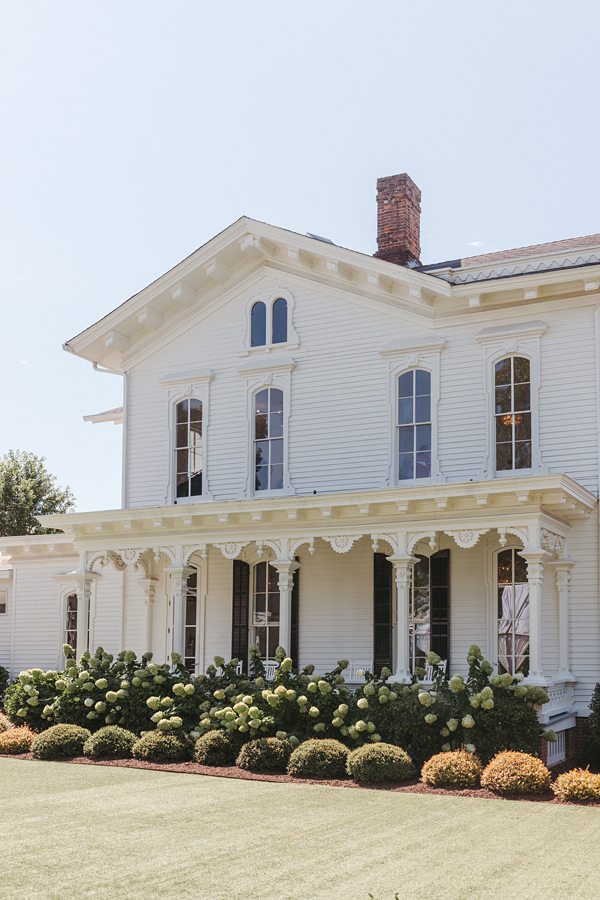 The Merrimon Wynne Wedding Venue
The Merrimon Wynne wedding venue features the best of a little bit of everything. First, there's the gorgeous historic home full of airy light to get ready and celebrate cocktail hour in. Then there's the beautiful outdoor evergreen lawn where ceremonies can be held in open air. Finally, there is the Carriage House – a modern spacious building perfect for a reception and beautiful enough to blend with the scenery of the house.
The Main House
At this Summer showcase at the Merrimon Wynne I had the pleasure of working with Stephanie of Viva L'Event in the Main House and Lawn. Stephanie and I have worked together before, and it was so fun to work with her again and watch her great sense of style come to life! I absolutely loved the fresh and modern palette of greens she chose to tie everything together. It was vibrant, and classic, and yet felt elegant and modern to add an interesting twist. She is so talented, as you can clearly see!
Tapered green candles adorned all the counter spaces and fireplace mantles, while green tablecloths covered the cocktail tables in alternating solids and patterns. Stephanie coordinated glass shelving to be placed among the rooms to showcase the delicious treats. Then of course there were the gorgeous florals set in elegant arrangements throughout the home. I was particularly captivated by the reflexed tulips and arching cosmos. And this was just the indoor space!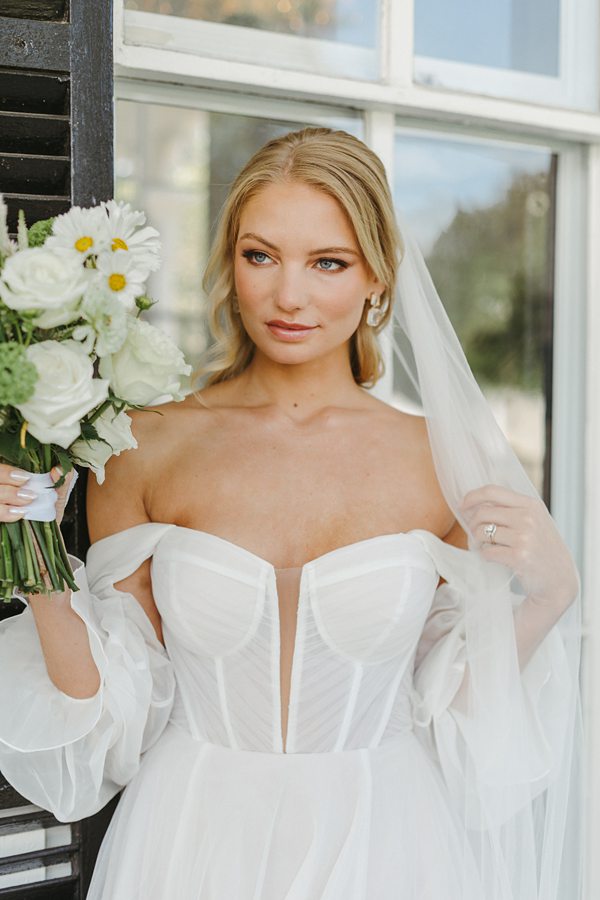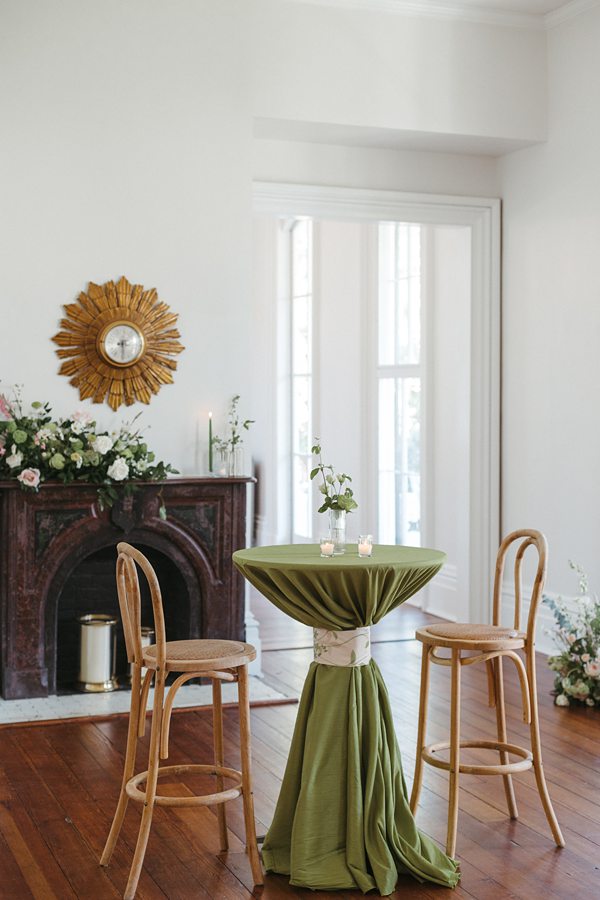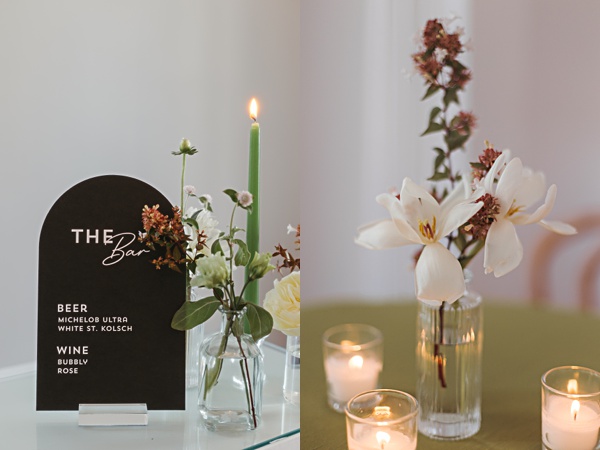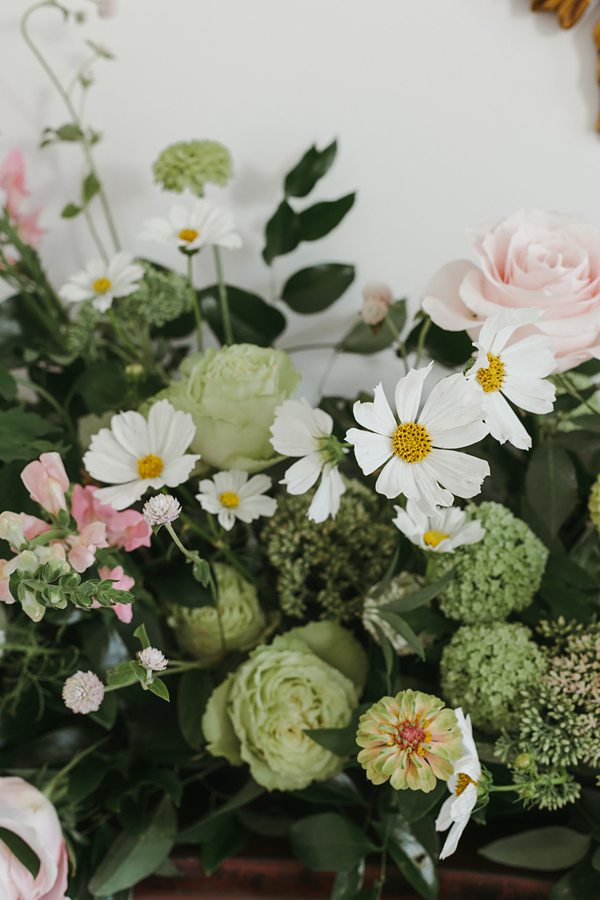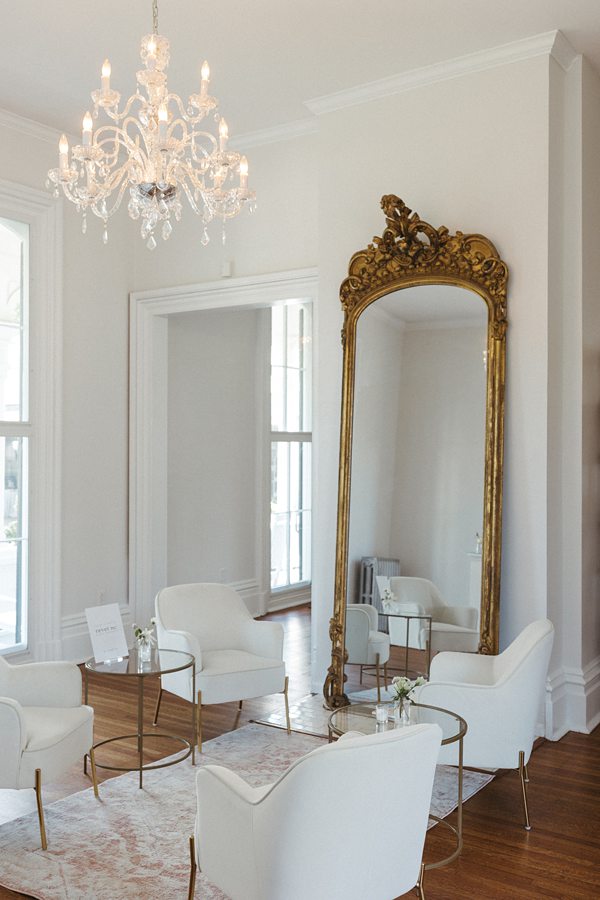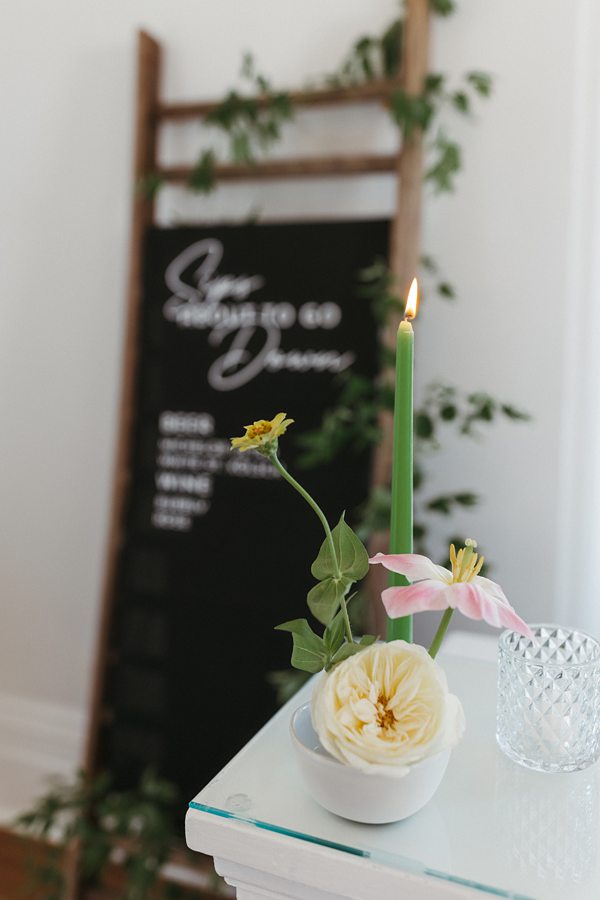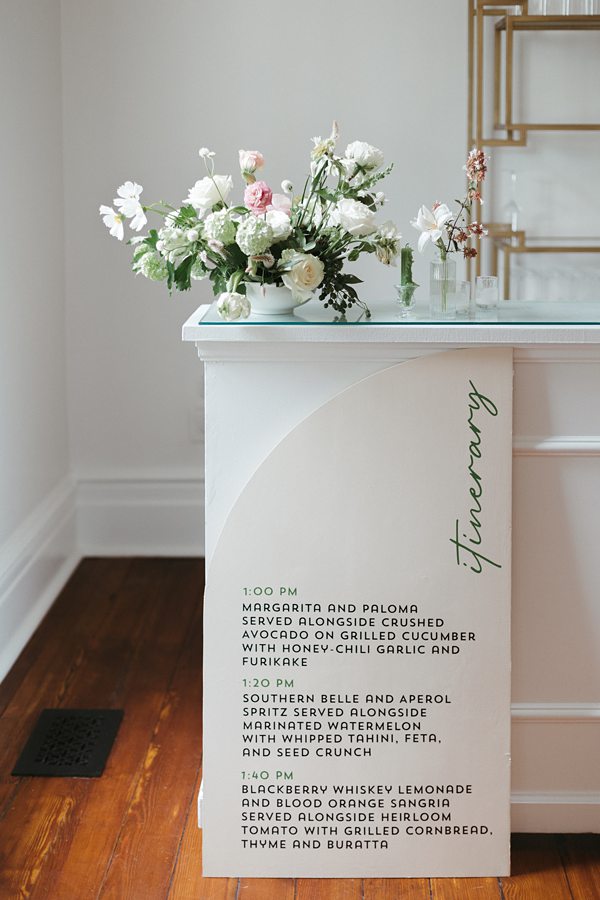 The Lawn
Stepping outside, and looking over the hydrangeas onto the lawn was a gorgeous sight. Here, Viva L'Event had designed for a bare-poled tent to shelter the most gorgeous ceremony setup. As you can see, the tent was draped all over in  white fabric. Then, in the middle, a four poled arbor was thickly covered in lush greens, roses, and tulips. Finally, guest chairs were set up to encircle the entire ceremony area. This made me think of the Quaker ceremonies I've witnessed, and boy, do I just love a quaker wedding!
Of course, I can't leave out the amazing signage. The sweet couple of Revel created all of these incredible pieces.  This included the archway leading into the ceremony. The bar signage. The chair tags. And of course, the drink display.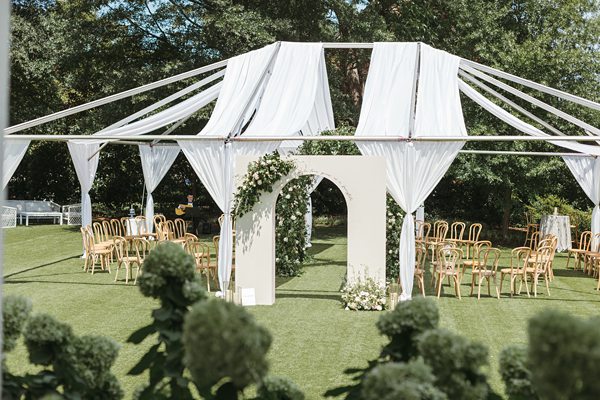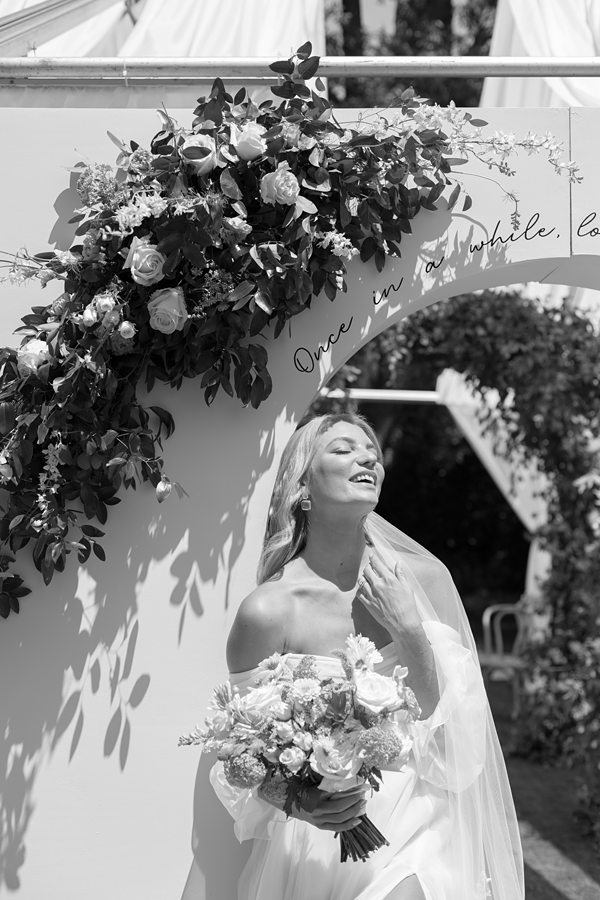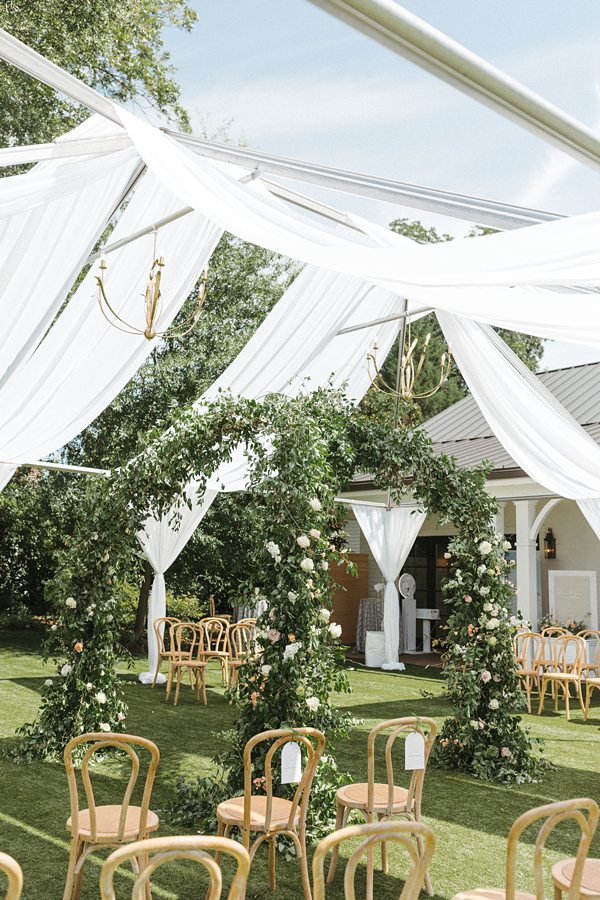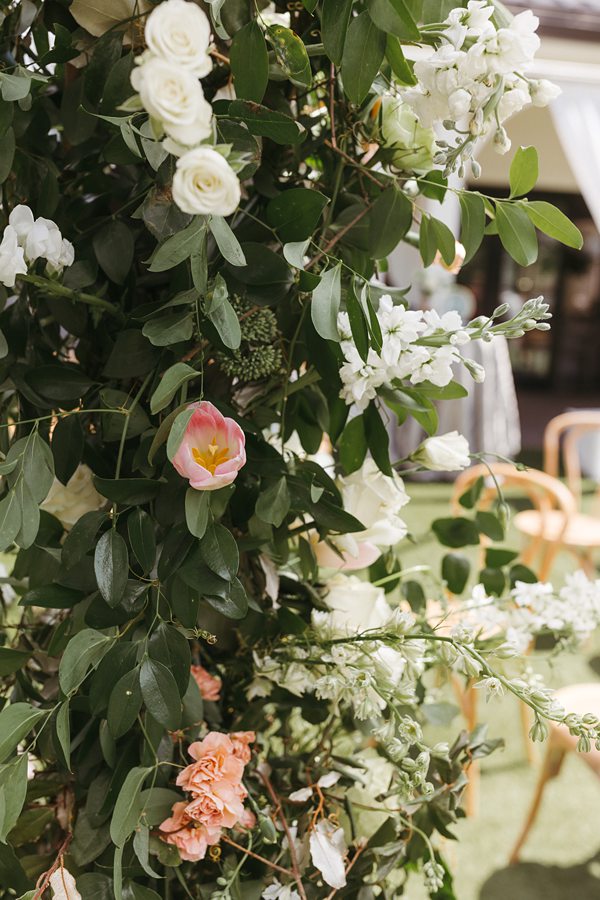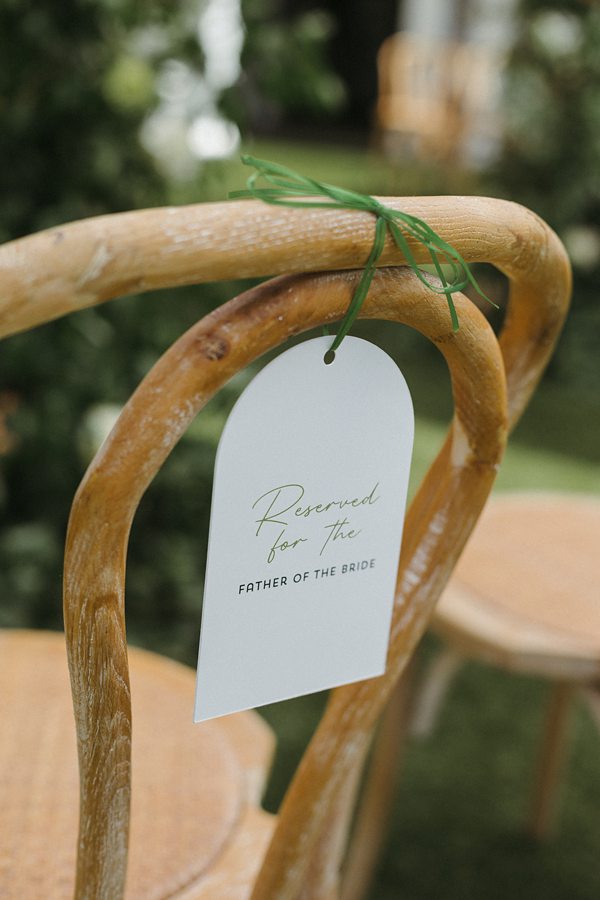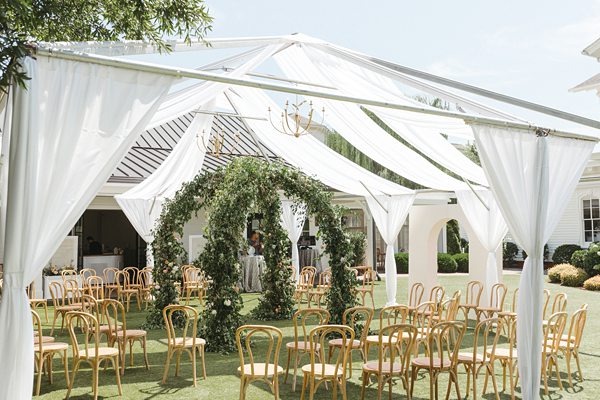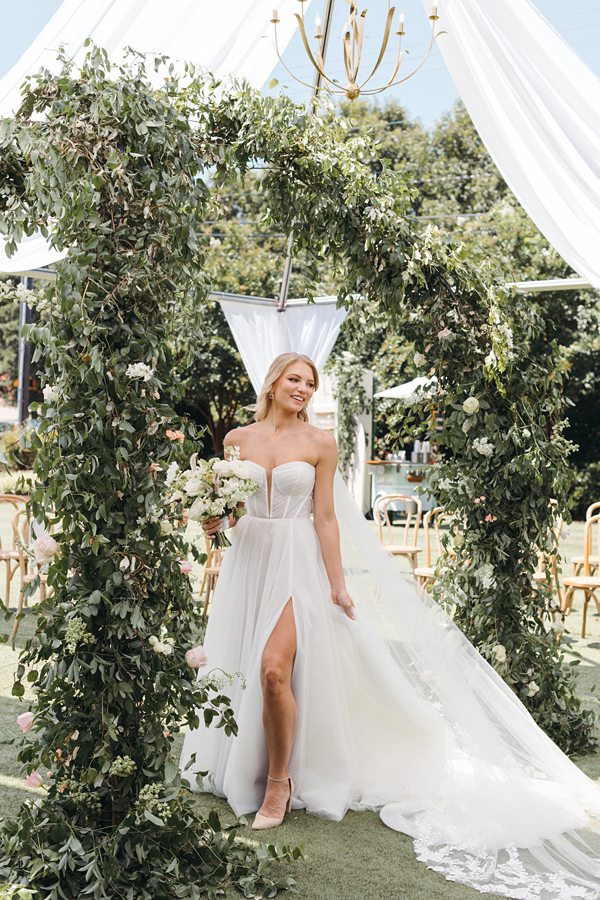 The Treats
Did you know that you can make a float out of champagne and frozen lemonade? Well, I have now witnessed it, and it is SO festive! Champagne glasses were lined up on the customized stand, where they could be topped with a hearty scoop of refreshing Italian ice. This just blew my mind. Plus, being August in the South, this was a crowd pleaser!  To prove my point, I created a gif of this whole process.
The gorgeous appetizers were a hit too. Displayed with such an artful touch, AC catering served a spread of delicious options. There were cornbread cups, white corn chilled soups, zucchini bites, and of course, the beautiful cocktails.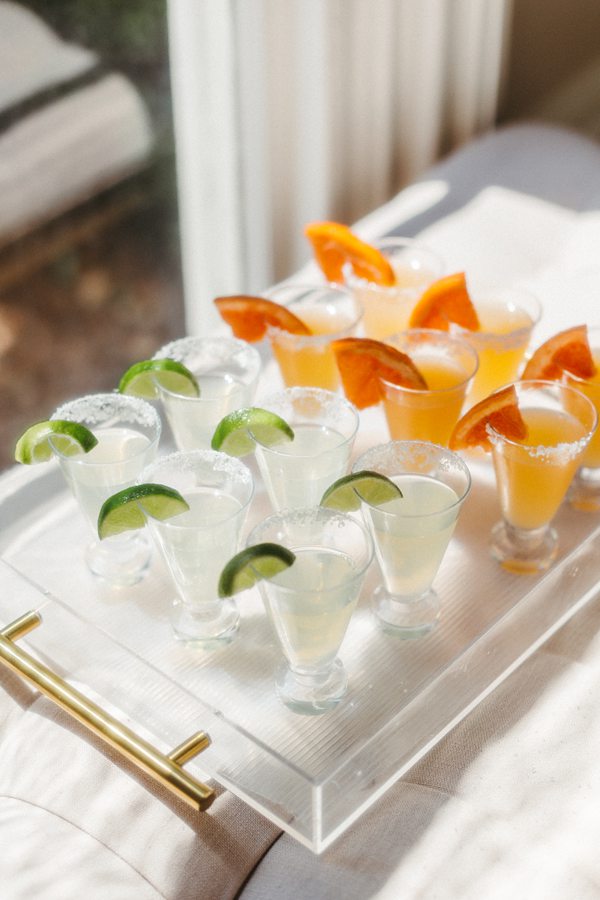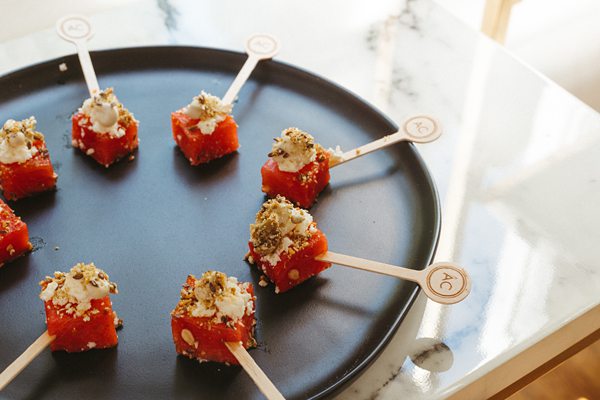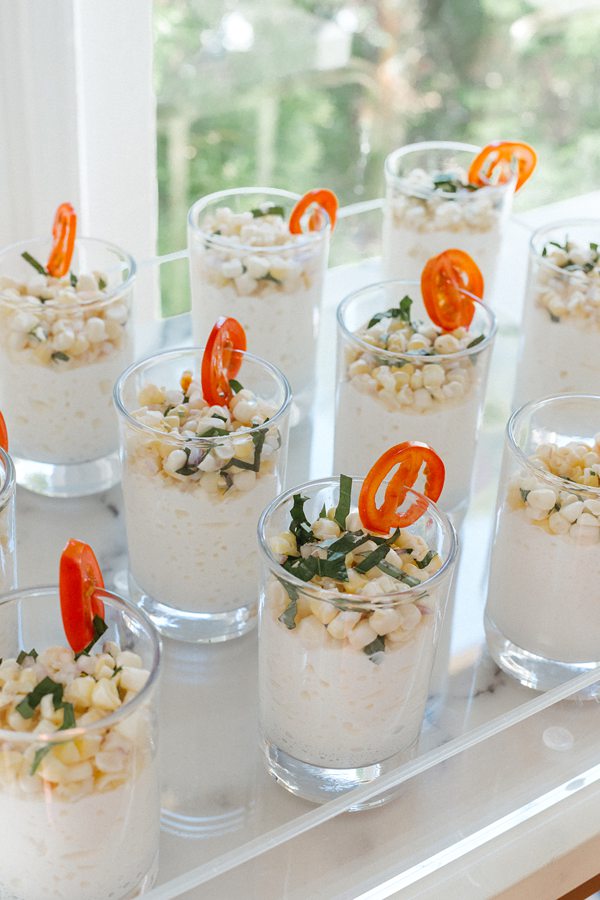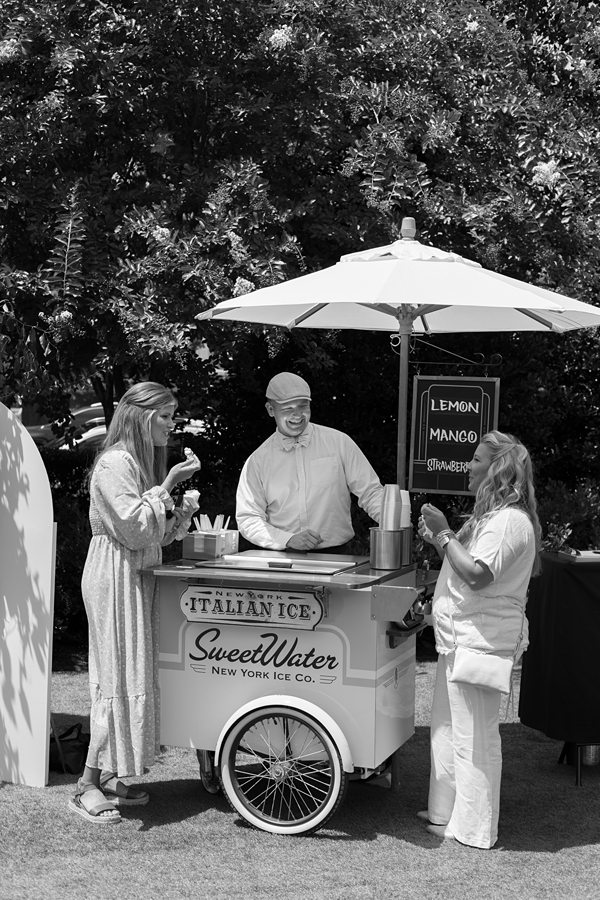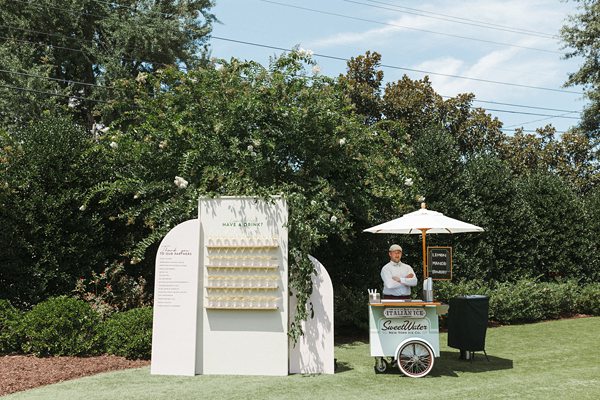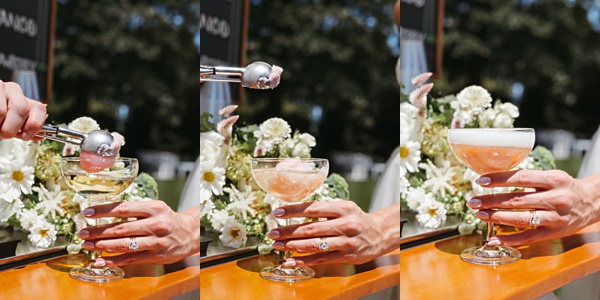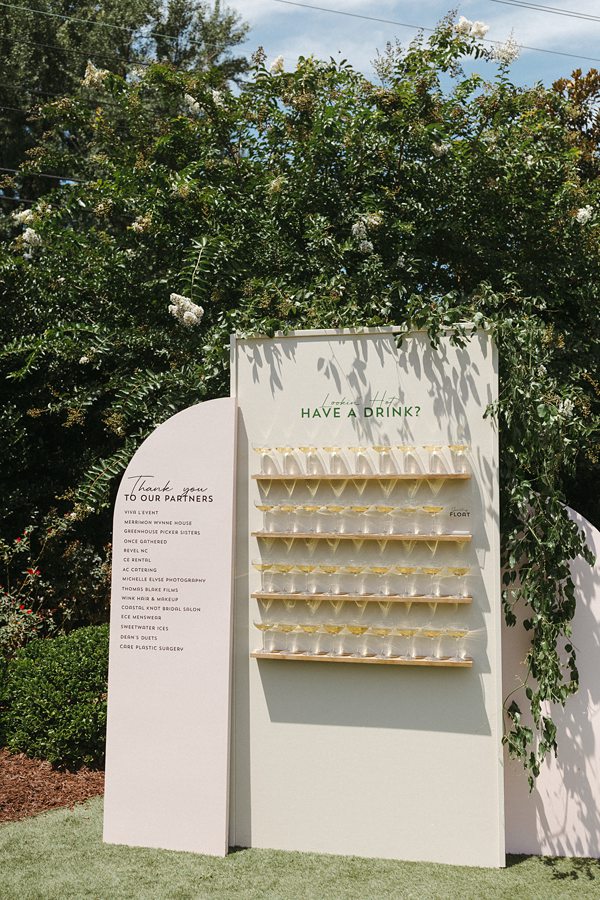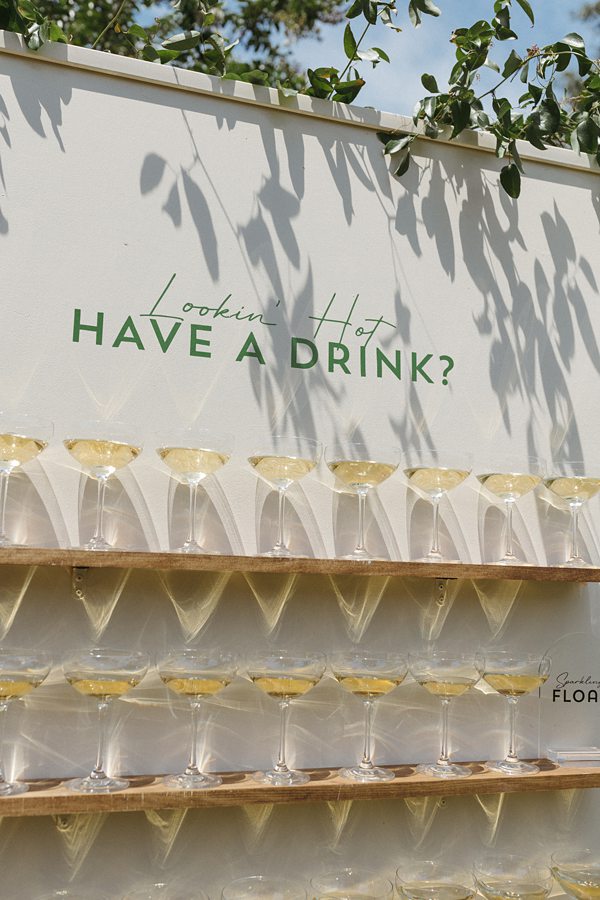 The Dress
Of course, we can't get through this post without talking about the amazing puff-sleeved Martina Liana Dress from White of Raleigh! Stephanie of Viva L'Event geniously coordinated for Chastity, our gorgeous model to stay for a while for some photos among the venue. As soon as I saw this dress, I fell in love with it. But, even more amazing, is that the sleeves were easily detachable. I was surprised to witness how easy they were to both put on, and take off. Even better,  it looked absolutely gorgeous either way! Wink – whom I've had the pleasure of working with many times- provided the beautiful hair and makeup.
Conclusion
Hopefully, you got some great ideas for your wedding by looking through these photos and attending the showcase. If you're interested in attending the next Merrimon Wynne wedding venue showcase, they will feature that information on their website and Instagram once its available.
If you are thinking about getting married at the Merrimon Wynne, I suggest you contact them asap. This venue books up pretty far in advance. And for good reason!
If you're interested in learning more about my packages and availability to photograph your wedding, please contact me HERE.
Thank you!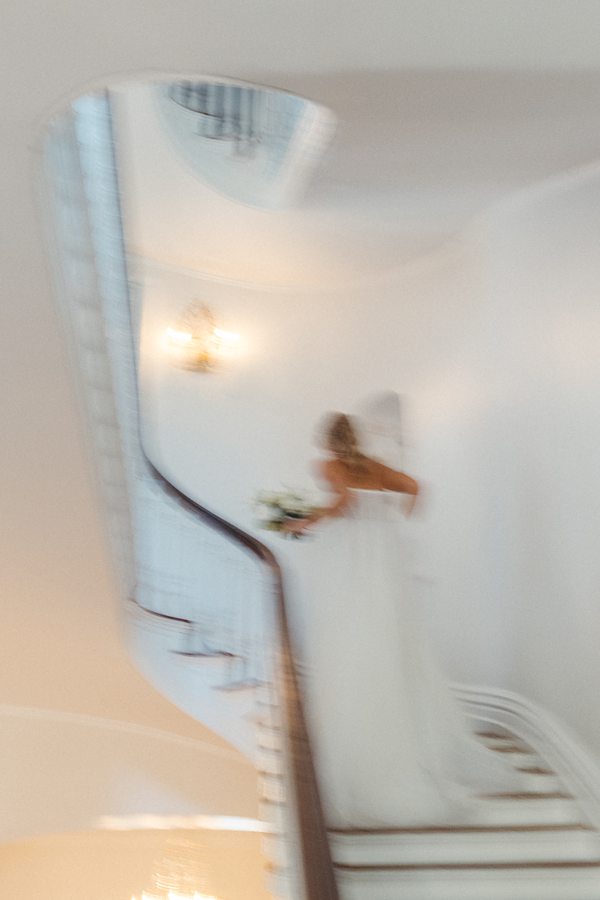 Merrimon Wynne Wedding Venue
Raleigh Wedding Venue
Raleigh Wedding Photographer