Should I Do a First Look on My Wedding Day? 3 Reasons Yes & 2 Reasons Not To
5 Reasons You Should or Shouldn't Do A First Look on Your Wedding Day
So you've been thinking about your wedding day – and wedding photography- timeline and you've begun wondering about a first look. I've been photographing weddings for over a decade, and I think I can help you out here. Sometimes, doing a first look can be a great idea. But just as often, doing a first look can be a not so great idea. It all just depends on the reasons why you're doing them. So let me run through this really quick for you.
3 Reasons When A First Look on Your Wedding Day is a Good Idea
1. Privacy.
If you and your spouse to be are introverted or private people, sharing this moment alone on your wedding day may be much more natural for you. Also, I think its really lovely when couples share their personal vows privately as it is much more intimate. From a wedding photographer's perspective, choosing to do a first look  in order to honor these deeply personal moments are a win for me. Because it's much more organic for your personalities.
2. There Wont Be Much Light After the Ceremony to Take Pictures.
For winter wedding days, the sun usually sets pretty early- like maybe even 3 or 4pm. In this case, it probably makes sense to just go ahead and plan to do all of your couples photos – and maybe even family and wedding party photos- beforehand. Winter light is also very soft and creamy, so it is still pretty flattering earlier in the day. Doing a first look is also a good idea if you're planning to hold your wedding ceremony right as the sun sets. That way you get to maximize the good light of late afternoon for your photos before dusk sets in.
3. You Want to Be at Your Cocktail Hour
This is very legitimate, no matter when your ceremony is timed. If it is important to you to mingle during your cocktail hour, then depending on the timing of your wedding day, I may recommend doing a first look. I may also recommend doing as many of your wedding party and family photos as possible before the ceremony too. Overall, though, I would say that this is not a very common reason why people do a first look. Couples usually choose to do a grand entrance into their reception and then mingle with their guests after dark for the rest of the night. They may enjoy a moment together alone, but they do not typically join in on the Cocktail Hour.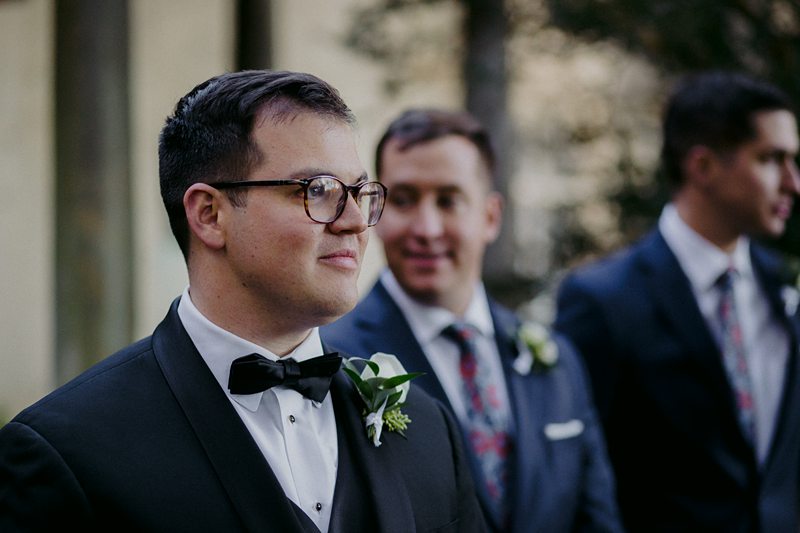 2 Reasons When a First Look on Your Wedding Day is NOT a Good Idea
1. You're Just Doing Them Because You Want More Couples Photos.
I know, I know- as a wedding photographer, this one is probably a little unexpected. But ultimately, it's not about the QUANTITY of photos, but rather the QUALITY. If things are planned right, usually the light after the ceremony is much more flattering. The light only gets better and better closer to sunset. And so often, people who plan their first look for this reason end up taking pictures when the sun is directly overhead. That lighting around high noon just isn't flattering. And it might even be hot, bright, and uncomfortable. Because of this, unless we can find a good shady spot or an indoor location with natural lighting, couples photos at this time probably won't be your absolute favorites.
If you're looking  for a spot in your timeline to add a little extra time for photos, it is MUCH better to plan for this after your wedding ceremony. Usually 20-30 minutes is plenty of time to capture these in a nearby location. But if you're wanting to take a little more time, you can always just plan to extend your cocktail hour a bit to an hour and fifteen or thirty. Guests will be so busy mingling and enjoying their cocktails and hors derves, they'll hardly notice the extra time has passed.
2. You're Doing Them Just Because Your Friend/ Friend's Wedding Photographer Said it Was a Good Idea.
Along with the above reason, this one isn't so good because its really not authentic to you and your desires. I'm not here to build up my portfolio with hours of couples portraits- my only agenda is to make sure you guys fully enjoy the day. While I artistically document it. As a skilled and experienced wedding photographer, I know that it is most important for me to capture the real moments and memories of the day. Taking you away multiple times just to make more time for portraits takes you away from the real events and memories of the day. And honestly, unless you are private people who want a break from the crowd, or don't have enough light after your ceremony, I think that would be doing you a disservice. It could end up feeling like a day of portraits by yourselves, rather than a day of memories with the people you love.
Doing a first look because you legitimately WANT to have some private time alone for these moments has good energy in it. But, if you are doing a first look just for the sake of it, I also start to worry about photo fatigue. Photo fatigue is simply when you get tired of taking pictures. Usually, it's because the photos are prolonged and not organic. Or because they are under the hot sun and you're hungry. As a photographer who's entire goal is to capture you fully immersing yourself in enjoying the day, this is the opposite of what I want for you. I can get more good photos in 10 minutes at sunset when you're really happy, than I could if we spent a whole half hour outside under the blazing sun. I would just hate for you to get fatigued before we even get to the best light if it's not what you truly want for your day.
CONTACT ME – FINE ART EDITORIAL WEDDING PHOTOGRAPHER
I really hope this article helped you and answered any questions you may have about doing a first look. As a wedding photographer with over a decade of experience, I consider it part of my service to guide my clients into making the best decisions to suit their day and personalities. I want your day to be focused on savoring all of the sweet memories. And I want to create the most beautiful and enjoyable photos I possibly can for you. If at any time, you have a question about doing a first look, or how to fit things into your timeline, please email me. I am happy to help you in any way I can.
Thanks so much for reading!
Michelle Elyse Photography
Fine Art Editorial Wedding Photographer